The world is united in denouncing the Houthis for targeting civilians and critical infrastructure in the UAE. An effective response to contain Houthi aggression requires broad and durable diplomatic pressure, tougher U.S. and international sanctions, taking away their social media megaphone, intensified efforts to block weapons proliferation and the rapid development and wider deployment of effective countermeasures.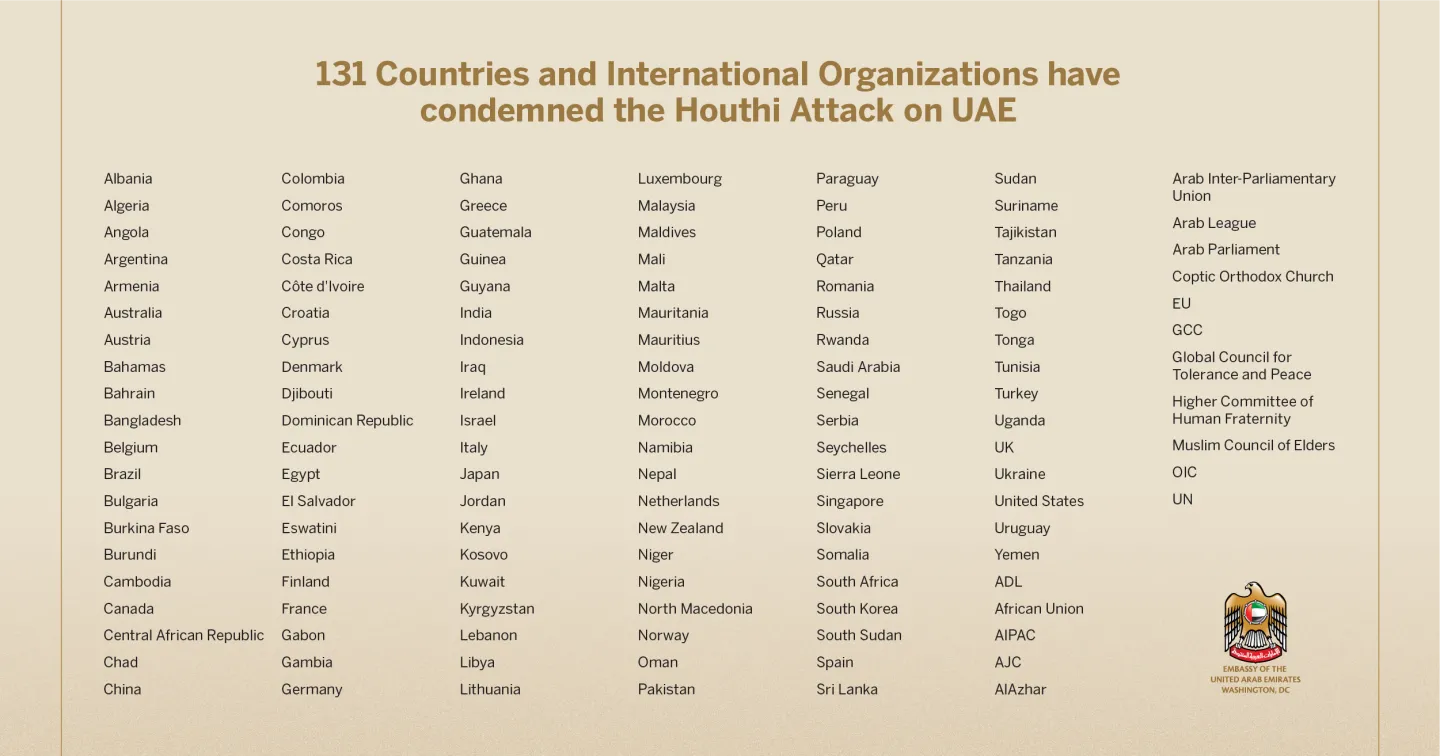 Find additional reactions below
US Government Testimonies
Secretary Antony J. Blinken, United States Secretary of State 
Remarks at the UN-Hosted High-Level Yemen Pledging Event, March 16
"The first step toward resolution is de-escalation, and yet here too, in recent months, we have seen just the opposite. That's why we condemn the escalating attacks by the Houthis, including cross-border attacks in January that killed civilians in the United Arab Emirates, wounded civilians in Saudi Arabia. It's why we continue to work to help strengthen the defense of our Saudi and Emirati partners. It's also why we call on all parties to the conflict to respect international humanitarian law, stop attacks on civilians, stop attacks on civilian infrastructure. Humanitarian assistance has to be allowed to flow into Yemen through all entry points throughout the country, freely, without interruption. And attacks on the staff of humanitarian organizations have to stop immediately. Every country has a responsibility to bring pressure to bear so that life-saving aid can actually get to those who need it."
Secretary Blinken's Call with the United Arab Emirates Minister of Foreign Affairs and International Cooperation Sheikh Abdullah bin Zayed Al Nahyan, January 17
The below is attributable to Spokesperson Ned Price:
"Secretary of State Antony J. Blinken spoke today with Emirati Minister of Foreign Affairs and International Cooperation Sheikh Abdullah bin Zayed Al Nahyan. Secretary Blinken condemned the terrorist attacks today, which killed and wounded innocent civilians. The Houthis have claimed responsibility for this appalling attack. The Secretary expressed his solidarity with the Emirati people and voiced his condolences for the loss of life."
Ambassador Linda Thomas-Greenfield, US United Nations Ambassador
Remarks at a UN Security Council Briefing on Yemen, March 15
"We call, loudly and clearly, for the immediate release of our current and former Yemeni employees. And release them unharmed. It is time for the Houthis to cease all threats against them and their families, and to release the UN staff and others they have detained, too..."
"We welcome the Council's adoption of Resolution 2624, which renews the existing travel ban and asset freeze measures for another year and applies the arms embargo explicitly to the Houthis as a group. The Resolution includes strong language condemning the illicit transfer of weapons to the Houthis and the group's cross-border terrorist attacks on Saudi Arabia and the United Arab Emirates."
"Despite @UN Security Council condemnation, the Houthis continue to attack civilian sites, occupy the U.S. compound, and detain Yemeni U.S. and UN staff. We call on all parties to de-escalate and engage in the UN-led peace process."
Ambassador Richard Mills, Deputy U.S. Representative to the United Nations
Remarks at a UN Security Council Open Debate on the Situation in the Middle East, February 15
"The United States joins others in strongly condemning the Houthi attacks striking civilian sites across the region over the last month, including multiple attacks on both the UAE and Saudi Arabia that killed innocent civilians … The Houthis have made it clear they seek to disrupt regional security, target civilian sites, and disrupt maritime commerce. We must do more to counter such attacks, with a unified voice, including by imposing tangible costs." 
Tim Lenderking, US Special Envoy for Yemen 
Arab Center Washington DC: The Conflict in Yemen: Current Situation and Future Prospects, February 14
"We conclude that the Houthis' Marib offensive over the past year has been the primary obstacle to peace efforts. However, the recent losses in Yemen should indicate to them and to all the parties that there is no military solution. The Houthis have pursued a dangerous pattern of increasingly obstructive and aggressive actions against Yemenis, Yemen's neighbors and the entire international community, harming civilians and civilian infrastructure."
Jake Sullivan, United States National Security Advisor
​​​​​Statement on Houthi Attack Against Saudi Arabia, March 20
"We condemn the Houthi attacks over the last 48 hours against civilian infrastructure in Saudi Arabia. These attacks reportedly targeted water treatment facilities as well as oil and natural gas infrastructure. The Houthis launch these terrorist attacks with enabling by Iran, which supplies them with missile and UAV components, training, and expertise. This is done in violation of UN Security Council resolutions prohibiting the import of weapons into Yemen. Saudi Arabia and the Yemeni Government have endorsed multiple UN calls for ceasefires and de-escalation over the last year. The Houthis have rejected these calls, responding instead with new offensives in Yemen and terrorist acts, such as those launched against Saudi Arabia last night. It is time to bring this war to a close, but that can only happen if the Houthis agree to cooperate with the United Nations and its envoy working on a step-by-step a process to de-escalate the conflict. The United States stands fully behind those efforts, and we will continue to fully support our partners in the defense of their territory from Houthi attacks. We call on the international community to do the same."
"The United States strongly condemns today's terrorist attack in Abu Dhabi in the United Arab Emirates, which killed three innocent civilians. The Houthis have claimed responsibility for this attack, and we will work with the UAE and international partners to hold them accountable. Our commitment to the security of the UAE is unwavering and we stand beside our Emirati partners against all threats to their territory."
Sean Murphy, US Embassy in the UAE Charge D'Affaires
Remarks on The National's Business Extra podcast at the US Embassy in the UAE, March 16
"Right now the Houthis are the aggressor in that war. And we are working very, very intensely with our partners in the region, with the UAE, with Saudi Arabia and also with the United Nations to try to bring the fighting to a stop."
"We've seen a greater recognition within the international community in the past six months, indeed, over the past year, that it is the Houthis and their Iranian backers who are fueling the war at this point, that the other parties are interested in peace, and the Houthis and their Iranian backers are interested in fighting and war at this point." 
John Kirby, Pentagon Press Secretary, US Department of Defense
Readout of Secretary of Defense Lloyd J. Austin III's Call With Crown Prince Mohammed Bin Zayed Al Nahyan of the UAE, February 1
Pentagon Press Secretary John F. Kirby provided the following readout: "Secretary of Defense Lloyd J. Austin III spoke today with Abu Dhabi Crown Prince Mohammed Bin Zayed Al Nahyan of the United Arab Emirates (UAE). The two leaders discussed the recent Houthi attacks against the UAE that caused civilian casualties and also threatened U.S. and Emirati armed forces stationed at Al Dhafra Air Base. The Secretary reiterated his strong condemnation of these attacks, and his commitment to U.S.-UAE strategic partnership." 
Ned Price, Spokesman, United States Department of State
State Department Press Briefing, January 24
"The United States condemns the overnight attack by the Houthis on the United Arab Emirates and Saudi Arabia, which resulted in civilian injuries in Saudi Arabia and follows a similar Houthi incursion last week that killed three civilians in Abu Dhabi. We reaffirm our commitment to help strengthen the defense of our Saudi and Emirati partners.
These attacks on the UAE and Saudi Arabia, as well as recent airstrikes in Yemen that killed civilians, represent a troubling escalation that only exacerbates the suffering of the Yemeni people.
We call on all parties to the conflict to commit to a ceasefire, abide by their obligations under international humanitarian law, including those related to protection of all civilians, and participate fully in an inclusive UN-led peace process."
Dana Stroul, Deputy Assistant Secretary of Defense for the Middle East
Remarks at Jewish Institute for National Security of America, March 1
"The UAE response to these attacks underscores that years of security cooperation and deepening of the 'mil-mil' partnership has allowed the UAE to effectively defend its own territory from missile threats. No other nation has partnered with the UAE like the United States has and the fact that the Emiratis were able to defend their air space demonstrates the value of this partnership and underscores for us here in DoD why we're going to continue to lean into supporting the UAE and deepening our security cooperation."
General Kenneth McKenzie Jr., USMC, Commander of U.S. Central Command
Remarks at House Armed Services Committee Hearing, March 17
"While the supply of humanitarian aid to Yemen has been imperfect, and not consistent throughout the long history of this crisis, Iran has never imported a single bag of rice or any other foodstuff into Yemen. In fact, the only material they brought into Yemen is stuff designed to kill people…I believe there's an opportunity for a negotiated settlement here. I believe that the parties, I believe that the Kingdom of Saudi Arabia, and I believe UAE are open to that solution. I believe that the Houthis have an opportunity should they choose to negotiate.
But under propping from the Iranian masters, they have instead chosen to double down, they continue their attacks into Saudi Arabia. They have ramped up attacks in the UAE and a very disturbing new phase of operations. But I believe, I think there is an opportunity here under the UN — under the United Nations to get to a truce."
Steven Fagin, US Nominee for Ambassador to Yemen 
Remarks at Senate Foreign Relations Committee Nomination Hearing, March 3
"I know we are all profoundly concerned by increasingly aggressive Houthi actions in recent months, including attacks impacting civilians and civilian infrastructure in the UAE and Saudi Arabia using missile and armed drone technology provided by Iran. There are more than 130,000 Americans living in these countries, and their safety is under threat from such attacks … The unlawful flow of weapons from Iran to the Houthis is also enabling the continued Houthi offensive in Marib, complicating efforts to get the parties to the negotiating table, and extending the suffering of civilians. Strengthening enforcement of the targeted UN arms embargo for Yemen, to cut off the flow of arms to the Houthis, must be a priority."
Congressional Testimonies
Senator Mark Warner (D-VA), Chair, Senate Intelligence Committee
January 18
"Houthis intentionally firing missiles at civilian targets in UAE is a tactic of terrorists. The UN Security Council should condemn the attacks as such and the Biden administration should explore labeling them as a Foreign Terrorist Organization."
Senator Jim Risch (R-ID), Ranking Member, Senate Foreign Relations Committee
January 18
"I condemn the #Houthi strikes on infrastructure in the #UAE, which tragically killed 3 & wounded others. My condolences to all those affected. Yet again, this is an act of a dangerous #Iran-backed terrorist proxy, not a responsible member of the int'l community. This must stop."
Senator Ben Cardin (D-MD), Senate Foreign Relations Committee 
February 2 
Senator Cardin told Jewish Insider, the Biden administration's decision to rescind the Houthis' designation as a Foreign Terrorist Organization should be "reevaluated" in light of the Iranian-backed militia group's attacks on the United Arab Emirates. The Senator noted the attacks are "clearly terrorism," but "there's a couple of issues involved, including humanitarian access."
Senator Ted Cruz (R-TX), Senate Foreign Relations Committee
January 24 
"President Biden made it an immediate priority to unwind pressure on Iran and its proxies, including by lifting terrorism sanctions on the Houthis and their leaders…in Yemen the Houthis launched a broad offensive within hours of the Biden administration's announcement they would lift those sanctions. I've consistently sought to reimpose those sanctions, and it's now clear that if the Biden administration is unwilling to do so then Congress should mandate that they do."
Senator Chris Coons (D-DE), Senate Foreign Relations Committee
January 18 
"I strongly condemn yesterday's attacks against innocent civilians in Abu Dhabi. I remain committed to working with the UAE to protect itself against threats from the Houthis and other regional adversaries."
Senator Marco Rubio (R-FL), Senate Foreign Relations Committee 
January 20
"Sen Rubio condemns the Iranian-backed Houthi attack on the #UAE this week, which killed three innocent civilians. President Biden should be standing with our allies and partners instead of desperately trying to appease the evil regime in #Tehran that is destabilizing the region." 
Representative Gregory Meeks (D-NY), Chair, House Foreign Affairs Committee
January 18
"I strongly condemn the recent Houthi drone attack on the UAE. Attacks on civilian areas represent flagrant violations of international law; this escalation makes achieving lasting peace for Yemen even more difficult." 
Representative Michael McCaul (R-TX), Ranking Member, House Foreign Affairs Committee 
January 17
"I condemn in the strongest terms the attack on Abu Dhabi, which killed three civilians. The Iran-backed Houthis claimed responsibility for this heinous assault. In recent months, they have stormed the US Embassy compound and imprisoned our local staff, seized an Emirati ship, and continued their cross-border attacks on Saudi Arabia. The Biden Administration MUST take real steps to respond to this dangerous behavior."
Representative Ted Deutch (D-FL), House Foreign Affairs Committee
January 18
"I join in condemning the recent terror attack in Abu Dhabi. The Houthis must be held accountable by the intl community, while we work to end the conflict in Yemen. We must continue to work together with Gulf partners to stop Iranian-backed terror." 
Joint letter to Secretary Antony Blinken and Samantha Power from Representatives Ted Deutch (D-FL), Gregory Meeks (D-NY), Joe Wilson (R-SC), Gerald E. Connolly (D-VA), David N. Cicilline (D-RI), Ted Lieu (D-CA), Colin Allred (D-TX), Kathy Manning (D-NC), William R. Keating (D-MA), Maria Elvira Salazar (R-FL), Karen Bass (D-CA), Juan Vargas (D-CA), Bradley S. Schneider (D-IL), Ilhan Omar (D-MN), and Sara Jacobs (D-CA)
March 11
"We understand that the Houthis are responsible for persistent obstruction and manipulation of humanitarian assistance and urge robust oversight to ensure that all assistance gets to the people of Yemen. Further, we condemn the recent escalatory attacks against Saudi Arabia and the United Arab Emirates which resulted in civilian casualties and severe injuries. The Houthis must stop their destructive campaigns both inside Yemen and in the wider region that continue to violate human rights and undermine prospects for peace and stability."
Joint letter to President Biden from Representatives Seth Moulton (D-MA), Mike Waltz (R-FL), Elise Stefanik (R-NY), Josh Gottheimer (D-NJ), Mike Gallagher (R-WI), Don Bacon (R-NE), Scott Franklin (R-FL), Ann Wagner (R-MO), Cathy McMorris Rodgers (R-WA), Peter Meijer (R-MI), Scott DesJarlais (R-TN), Pat Fallon (R-TX), Liz Cheney (R-WY), Young Kim (R-CA), Carol Miller (R-WV), Stephanie Murphy (D-FL), Donald Norcross (D-NJ) 
February 8
"I urge you to re-designate the Houthis as a Foreign Terrorist Organization. I understand that removing the designation was meant to help the dire humanitarian situation in Yemen, but it has done little outside of embolden the Houthis to escalate their attacks and block reconciliation efforts in the country. The U.S. relies on our relationship with the UAE to promote regional security and address pressing global challenges. They have been a key ally in assisting the U.S. with the evacuation of thousands of Afghan evacuees, and continue to provide essential support to our U.S. troops and military platforms. This is a critical time to stand shoulder-to-shoulder with an important ally while they are under assault, reiterating our commitment to the US-UAE strategic partnership."
Joint letter to President Biden from Representatives Michael McCaul (R-TX), Joe Wilson (R-SC), Scott Perry (R-PA), Darrell Issa (R-CA), Brian Mast (R-FL), Tim Burchett (R-TN), Gregory Steube (R-FL), Ronny Jackson (R-TX), and Maria Elvira Salazar (R-FL)
January 21
"It is evident that the Houthi rebels continue to reject good faith efforts to negotiate a diplomatic solution, instead choosing the path of violence, including against civilians and civilian targets. Administration officials have recently expressed a willingness to reconsider your decision to de-list the Houthis, also known as Ansarallah, as a Foreign Terrorist Organization (FTO) under the Immigration and Nationality Act and as a Specially Designated Global Terrorist (SDGT) pursuant to Executive Order (E.O.) 13224. We fully support reversing this decision and re-listing the Houthis."
Gerald Feierstein, Former US Ambassador to Yemen; Senior Vice President and Distinguished Senior Fellow, Middle East Institute in Washington, D.C.
A Peace-Maker's Case for Designating the Houthis, February 15 
Yemen: Ending the War, Building a Sustainable Peace, March 2022
"In the absence of other viable options to pressure the Houthis to abandon their military campaign and seek a peaceful, political outcome to the war, it would be foolhardy not to consider the possible use of a terrorist designation as a tool in America's kit."
"If the administration decides to pursue the option, it should discuss the terms of the designation with international humanitarian organizations, banks, commercial enterprises, and others who might be affected by it to ensure that it's crafted in a way to minimize unintended consequences."
Fatima Abo Alasrar, Non-Resident Scholar, Middle East Institute
The Wilson Center - War in Yemen: Implications for Regional and U.S. Security, February 15
"We've had fake negotiations or fake diplomacy where they (the Houthis) have signaled some type of intention toward peacemaking, but failed to follow through…They have stayed very true to their military strategy right from the beginning, which is to consolidate power throughout this process. If you do nothing militarily to push the Houthis back and minimize their power, then you risk continuing the status quo and making things even worse." 
Jonathan Schanzer, Senior Vice President for Research, Foundation for Defense of Democracies (FDD), and Matthew Zweig, Senior Fellow, FDD
Yemen's Houthis Belong on the Terror List, January 25
"U.S. policy in Yemen currently amounts to nothing more than documenting Houthi violence, which has escalated since Mr. Biden took office. Moreover, the administration's actions have undermined the basis of the American terrorism sanctions regime. Ansar Allah is the textbook definition of a terrorist group. If it can have its sanctions lifted without changing its behavior, why can't other terrorist organizations do the same?
The Houthis fired missiles again at Abu Dhabi and Saudi Arabia on Sunday. Yemen continues to writhe in large part because of a violent campaign by Iranian-backed Houthi terrorists. While the White House may take heat from congressional progressives and their allies, particularly in light of Saudi-led retaliation for last week's drone strike, it's time to redesignate Ansar Allah as a terrorist organization."
Brian Hook, Vice Chairman, Cerberus Global Investments; Former U.S. Special Representative for Iran; and Senior Policy Advisor to the Secretary of State
The Wilson Center - War in Yemen: Implications for Regional and U.S. Security, February 15
"Right now, the dynamic that is undeniable is that the Houthis have no incentive to engage in talks. And then the question for policymakers is how do you change that dynamic so that the costs of not talking are increased…I would designate them as an FTO." 
Ambassador Dennis Ross, Fellow, Washington Institute for Near East Policy
A needed warning for Yemen's rebels — and for our allies and enemies alike, January 24
"Rarely has it been more important for an American administration to show it will stand by a friend in response to an attack that could have resulted in many civilian casualties, including Americans."
Robert Satloff, Executive Director, Washington Institute for Near East Policy
January 18
"In my view, there's powerful logic to re-designating Yemen's Houthis as a terrorist organization. To me, basic principle should be to separate the counter-terror and humanitarian objectives and pursue both without regard to the other. 
In practice, that means USG should designate Houthis like the terrorists they are and find practical/legal workarounds to provide humanitarian goods to needy Yemenis regardless of the politics. Houthis shouldn't be able to use #Yemen's humanitarian distress as a shield."
Con Coughlin, Analyst, The National
Abu Dhabi attacks put Biden's Houthi designation firmly in the spotlight, January 20
"In the aftermath of the attack carried out by Iranian-backed Houthi rebels on a peaceful civilian district of Abu Dhabi this week, it is hard to see how US President Joe Biden can resist calls for the extremist group to be re-designated a terrorist organisation… this week's attack against the UAE – which has long-standing defence ties with the US and plays host to around 5,000 American military personnel – demonstrates the Houthis and their backers have not abandoned their terrorist activities."
Matthew Levitt, Director, Washington Institute for Near East Policy
January 19
"Houthis were given opportunity to avoid designation but chose to engage in acts of terrorism targeting civilian targets in other countries. FTO designation makes sense now, with approximate licenses or exceptions to avoid famine."
William F. Wechsler, Senior Director, Atlantic Council's Middle East Program
How the Biden administration can assure regional partners in the wake of the Houthi attacks on the UAE, January 24
"US President Joe Biden is right to reconsider his previous decision to withdraw the US terrorist designation of the Houthis. Such a designation isn't an easy decision; assessing the likely ramifications of such a move, the Donald Trump administration was internally divided on the question for years. Indeed, it only issued its designation during its final days in office in January 2021—the timing of which was especially questionable and strongly suggested a high degree of cynicism, at the very least. 
The factual merits of such a designation aren't in question—the Houthis clearly qualify. After all, even as the Biden administration revoked the designation about one month after it was issued in February 2021, US Secretary of State Antony Blinken accurately enumerated the Houthi's long list of offenses, "including taking control of large areas of Yemen by force, attacking US partners in the Gulf, kidnapping and torturing citizens of the United States and many of our allies, diverting humanitarian aid, brutally repressing Yemenis in areas they control, and the deadly attack on December 30, 2020 in Aden against the cabinet of the legitimate government of Yemen."
Katherine Zimmerman, Fellow, American Enterprise Institute; Adviser, AEI's Critical Threats Project
The Wilson Center - War in Yemen: Implications for Regional and U.S. Security, February 15
Yemen's Houthis and the Expansion of Iran's Axis of Resistance, March 2022
"Re-designating the Houthis as a Foreign Terrorist Organization is obviously a major policy discussion with regard to Yemen right now, especially after the attacks in the UAE…I would argue, actually, that the Houthis themselves have not changed at all for the past year either. We've just seen them actually exercising some of the capabilities that they've had, Iranian sourced, of course, and so the question of why to bring it back now is apt."