Since 2009, the UAE has been the number one export market for US goods in the entire Middle East and North Africa (MENA) region.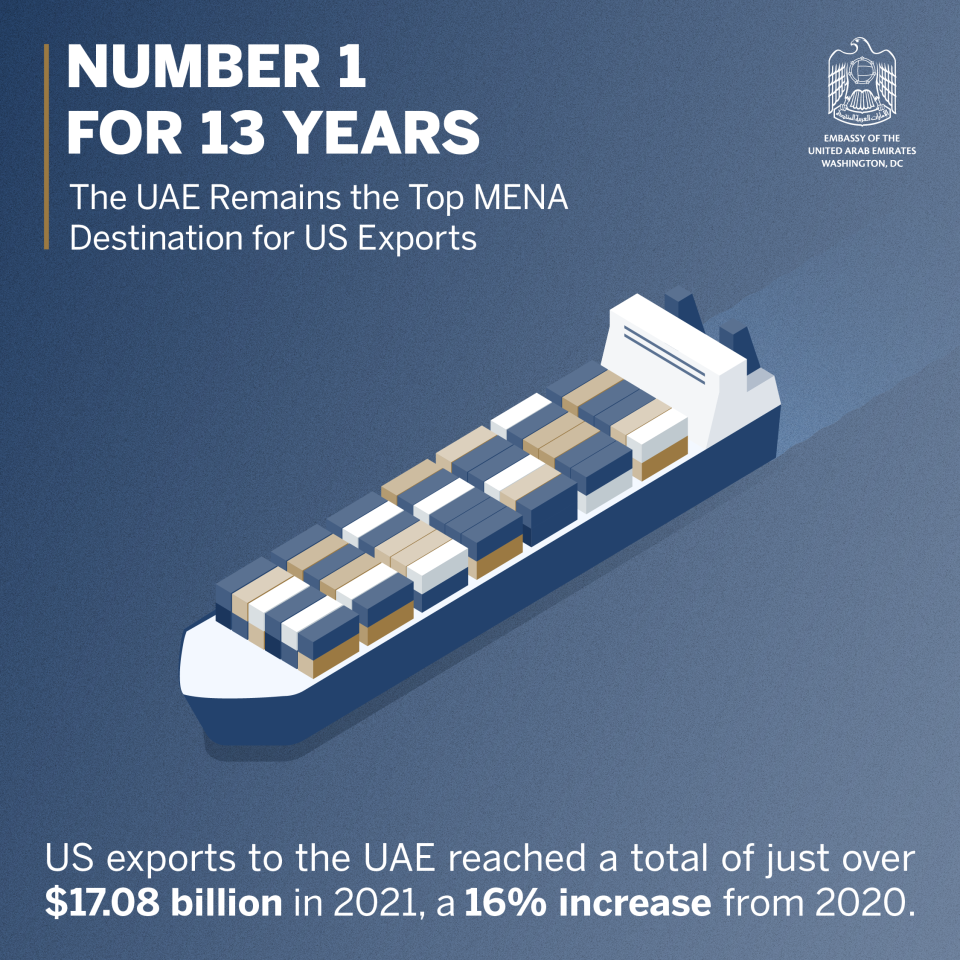 In 2021, bilateral trade totaled $23.03 billion, with the US exporting more than $17 billion of goods and services to the UAE — a 16% increase from 2020. The resulting $11.13 billion trade surplus for the US is America's sixth largest trade surplus globally.
This robust trade relationship reflects the success of the UAE's increasingly diverse economy, with non-oil sectors accounting for 70% of the UAE's GDP.
Top categories of US exports in 2020 included:  electronics, nuclear materials, passenger vehicles, and aircraft and spacecraft. The UAE trades with all 50 US states. Trade with the UAE supports 123,305 American jobs, strengthening the importance of the continued bilateral trade relationship.
UAE investment into the US, as well as exports from the US to the UAE, contribute to the American economy. In 2019, UAE direct investment in the US reached $27.6 billion. According to SelectUSA, there were over 12,000 American workers employed by US affiliates of majority-owned UAE firms as of 2018.
Key Facts
The UAE trades with all 50 US states.
Electronics was the top category of US exports ($2.58 billion), accounting for approximately 17% of total exports in 2020. 
Other top categories of US exports in 2020 included: nuclear materials, including reactors and machinery ($2.51 billion); passenger vehicles ($1.8 billion) and aircraft and spacecraft ($1.5 billion).
The UAE is one of the largest Foreign Military Sales customers of the US, purchasing more than $20 billion in US defense hardware and services over the past decade, including one of the world's largest non-US F-16 fleets.
Infrastructure development projects across the UAE are driving growth and supporting billions in US exports. Projects include the development of a new railway; network support for the UAE civilian nuclear energy program; the construction of new airports in Abu Dhabi and Dubai; and the expansion of commercial seaports across the UAE.