One of the UAE's highest priorities has always been education. His Highness Sheikh Zayed Bin Sultan Al Nahyan, the founder of the UAE, believed that education is the way forward to create an inclusive and prosperous society.
The UAE focuses on educating both men and women. In 1975, the rate of adult literacy was 58 percent among men and 38 percent among women. Today, literacy rates for both genders are close to 95 percent.
New initiatives are launching at all educational levels. A key area of focus has been transforming K to 12 programs to ensure that UAE students are fully prepared to attend universities around the world and compete in the global marketplace. The UAE has also reviewed and enhanced its national curriculum and Emirati textbooks to meet international standards for peace and tolerance in school education, the research organization IMPACT-se reported. In addition, some of the world's best universities are establishing programs in the UAE, attracting talented students in the Arab world and globally.
The UAE's commitment to education has helped the nation diversify its economy and prepared a new generation of young people ready to compete in the global marketplace. In 2020, young people surveyed throughout the Arab world identified the UAE as the top country to live in and to emulate for the ninth year running, reflecting the opportunities available to youth entering the workforce.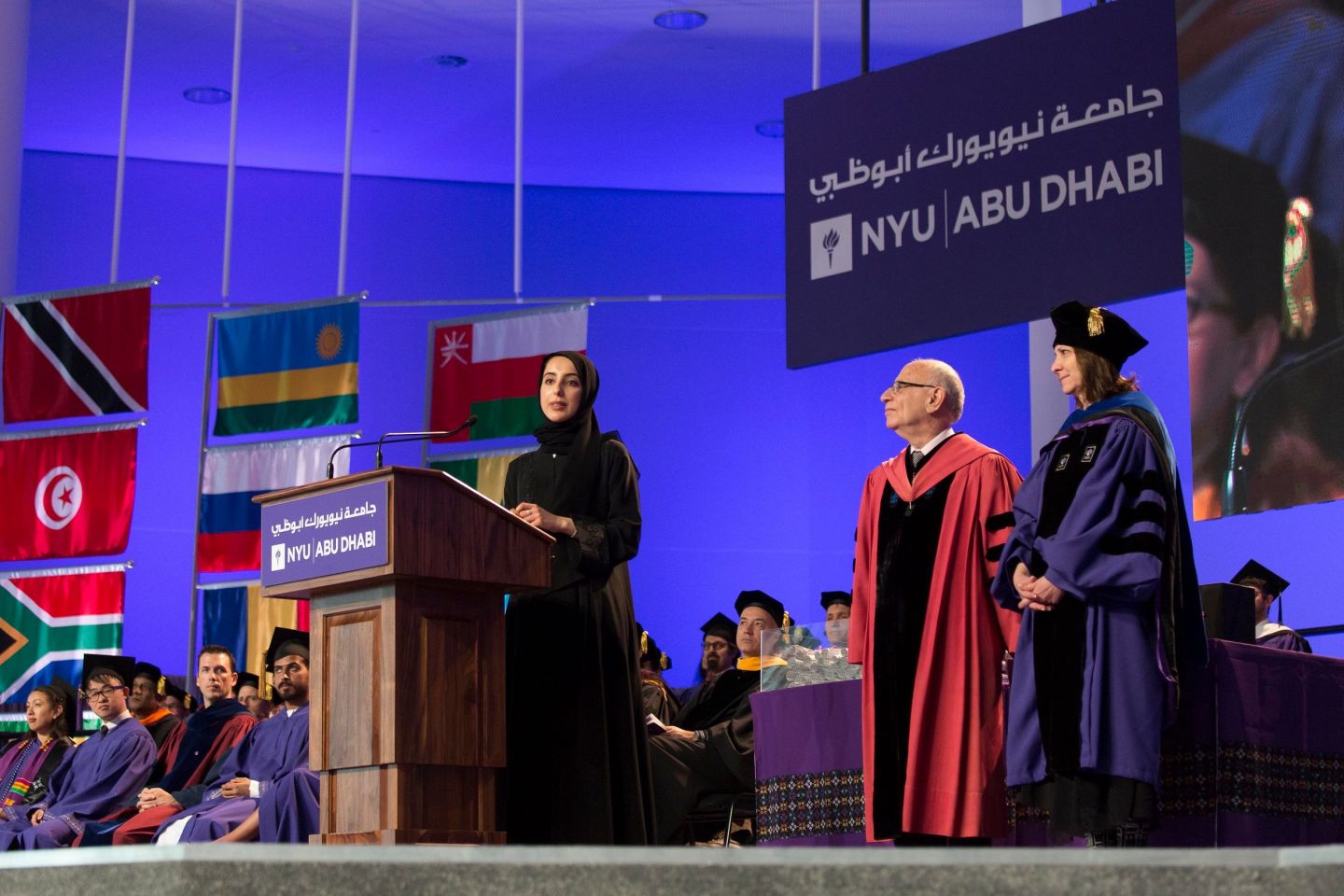 K-12 Programs
The education system of the UAE is relatively new. In 1952, there were few formal schools in the country. In the 1960s and 1970s a school building program expanded the education system. Now, education at the primary and secondary level is universal. In the 2017-2018 academic year, approximately 1,080,000 students were enrolled at 1,219 public and private schools.
Education reform focuses on better preparation, greater accountability, higher standards and improved professionalism. In addition, instruction is being revitalized with more interactive forms of learning, and English-language education is being integrated into other subjects, such as math and science. While general strategy is determined by the Ministry of Education, education councils set up in individual Emirates assist in implementing government policy. The Abu Dhabi Education Council (ADEC), Dubai Education Council (DEC), Sharjah Education Council and UAE Ministry of Education are each tasked with reforming the educational program in the UAE while still preserving local traditions and principles, and the cultural identity of the country.
Higher Education
The UAE believes in the power of higher education to increase understanding, create opportunities and move society forward. Dozens of universities have opened over the past several decades, making the UAE a regional hub for education.
Today, UAE citizens can attend government institutions free of charge. UAE public universities include:
UAE University, where enrollment was 502 in 1976, its founding year, and has increased nearly 30-fold over the years. Women represent a majority of the student body. UAE University awards 76 undergraduate degrees in addition to 67 graduate degrees.
Zayed University (ZU), established in 1998 as an all-women's institution. A men's campus opened in 2010. It is organized into seven colleges—Arts and Creative Enterprises, Business, Communication and Media Sciences, Education, Natural and Health Sciences, Humanities and Social Sciences and Technological Innovation—and the primary language of instruction is English. Zayed University has US accreditation.
Higher Colleges of Technology (HCT), the largest higher educational institution in the UAE with an enrollment of 20,000 students. Founded in 1988 with four campuses, HCT now includes 16 men's and women's colleges in Abu Dhabi, Al Ain, Madinat Zayed, Ruwais, Dubai, Ra's al-Khaimah, Sharjah and Fujairah. The colleges offer more than 80 technical and degree programs and certifications. More than 14,000 of the current students are female. (www.hct.ac.ae)
Private Institutions
Some of the key private institutions include:
American Universities of Sharjah
American University of Dubai
Sharjah University
Ajman University
Abu Dhabi University, with campuses in Abu Dhabi and Al Ain
Al Hosn University
Khalifa University of Science and Technology
In addition to these institutions, the Masdar Institute for Science and Technology (MIST) was established in 2007 in Abu Dhabi, in collaboration with the Massachusetts Institute of Technology (MIT), as an independent non-profit graduate level research university focused on advanced energy and sustainable technology. In February 2017, MIT merged with the Khalifa University of Science, Technology and Research (KUSTAR), and the Petroleum Institute (PI), to create Khalifa University of Science and Technology (KU), a world-class, research-intensive institution to develop world leaders and critical thinkers in applied science and engineering.
Global Partnerships
A number of international universities have campuses or programs in the UAE. Some are housed in special zones, including Dubai Knowledge Park and International Academic City.
Other special programs include:
The Paris-Sorbonne University opened its Abu Dhabi campus in 2006 and awards qualifications under French regulations and standards set by the Sorbonne University in Paris.
Rochester Institute of Technology Dubai offers world-class undergraduate and graduate programs to nearly 600 students. In 2019, the university began construction on a new campus in Dubai Silicon Oasis that will be able to serve up to 4,000 students.
New York University Abu Dhabi is the first comprehensive liberal arts and sciences campus with a robust research component to be operated abroad by a major US university. NYU Abu Dhabi graduated its first class in Spring 2014 with 150 students from 39 countries. The campus, located on Saadiyat Island, houses 1,625 students representing more than 82 nationalities.
Technical Education
Founded in 1997, the Center of Excellence for Applied Research and Training (CERT) is the commercial arm of the Higher Colleges of Technology and provides education, training and applied technology instruction. CERT is the largest private education provider in the Middle East and is developing projects throughout the MENA region.
Other vocational and technical educational centers are sponsored by the:
National Institute for Vocational Education (NIVE)
ADNOC Technical Institute (ATI)
Petroleum Institute (PI)
Mohammed bin Rashid School of Government
Emirates Aviation University
Emirates Academy of Hospitality Management
Abu Dhabi Vocational Education and Training Institute (ADVETI)
Special Education
The government of the UAE strongly supports education and learning services for students with special needs, now legally known as People of Determination. Learn more here.