UAE airlines announce largest commercial aircraft order in history at 2013 Dubai Airshow
November 18, 2013
At this week's Dubai Air Show, UAE airlines announced the largest commercial aircraft order in history.  When combined, UAE airlines will buy more than 300 new Boeing aircraft with a value of more than $120 billion, including General Electric engines and maintenance services. For US companies like Boeing and GE, this commitment from UAE airlines promotes US exports and supports hundreds of thousands of US jobs.
The highlights of this week's announcements include:
• Emirates: Already the world's largest operator of Boeing 777's with a fleet of 120, Emirates Airline will buy 150 additional next-generation passenger 777X aircraft.  The aircraft will be powered by advanced GE Aviation engines, making Emirates the largest operator of GE 9X aircraft engines in the world.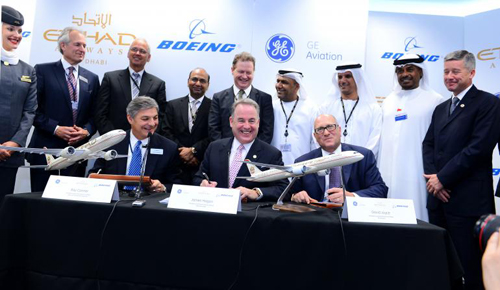 • Etihad Airways: Etihad will become the single largest airline customer for the Boeing 787 Dreamliner, with the 30 aircraft in this order being added to 41 announced previously.  The deal also includes 25 777X aircraft and one 777-200 freighter.  To power these new Boeing aircraft, Etihad will purchase 127 GE Aviation engines, which includes installed and spare engines, and future service support.
• flydubai: The largest operator of Boeing 737 aircraft in the Middle East region, flydubai announced the purchase of 111 more 737 aircraft. The order will include 100 new 737 MAX and 11 737-800 NG planes. 
According to a recent Associated Press article, exports from the aviation sector to the UAE have "supported hundreds of thousands of jobs and have billions of dollars in annual economic impact in the US."
Aircraft sales help solidify the UAE's standing as the US' largest export market in the Middle East and North Africa, with total exports from the US to the UAE totaling $22.6 billion last year. Of the top 20 export destinations for the US in 2012, exports to the UAE grew at the most rapid pace, at 42%, and the total value of exports were almost double that of 2010.