UAE Ambassador Yousef Al Otaiba highlights strong UAE-US economic relationship during visit to Los Angeles
December 10, 2014
WASHINGTON, DC (13 August 2009) – HE Yousef Al Otaiba, UAE Ambassador to the United States, recently spoke to the Los Angeles World Affairs Council (LAWAC), where he highlighted the strong UAE-US economic relationship and discussed other matters of mutual interest with California, such as the shared commitment to renewable energy and burgeoning entertainment industry partnerships.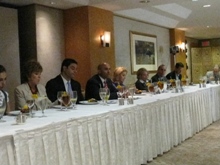 Ambassador Yousef Al Otaiba participates in a discussion with the Los Angeles World Affairs Council.
While in Los Angeles, Ambassador Al Otaiba also met with senior state government advisors, business executives and community leaders, as well as numerous representatives from the Hollywood and Abu Dhabi entertainment industries.
During his speech to the LAWAC, Ambassador Al Otaiba discussed the deep economic ties between California and the UAE.  He cited numerous examples, including UAE investments in California businesses and recent trade data, which shows that in 2008, California exported over $1 billion in goods to the UAE – the fourth most of any state.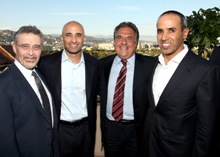 Warner Bros. Entertainment Chairman & CEO Barry Meyer,Ambassador Yousef Al Otaiba, Twentieth Century Fox Chairman Jim Gianopulos and Abu Dhabi Media Company Chairman HE Mohamed Khalaf AlMazrouei at a reception in Beverly Hills, CA.In addition, Ambassador Al Otaiba highlighted how UAE entertainment and production companies are increasingly partnering with Los Angeles-based studios to produce film and television projects and expand the entertainment industry in the UAE. Throughout his visit to Los Angeles, he discussed ways to further promote cooperation in the entertainment sector and increase the number of projects produced in the UAE.
Imagenation and twofour54, Abu Dhabi-based media and entertainment production companies, hosted a reception in honor of Ambassador Al Otaiba with Hollywood studio executives and personalities. HE Mohamed Khalaf Al-Mazrouei, Chairman of Abu Dhabi Media Company, also attended the event.
For more information on the UAE-US relationship visit www.uae-embassy.org