UAE Minister of Foreign Affairs meets with US Special Envoy for Middle East Peace
April 6, 2009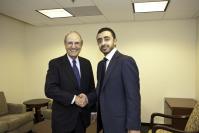 WASHINGTON, DC (6 April 2009) – The Minister of Foreign Affairs of the United Arab Emirates (UAE), HH Sheikh Abdullah bin Zayed Al Nahyan, met today with U.S. Special Envoy for Middle East Peace George Mitchell as part of his official visit to Washington, DC  The two discussed the respective roles of the UAE and United States to secure a path to peace in the region, and the status of coordinated multilateral efforts.
The Foreign Minister reiterated the UAE's commitment to reaching a comprehensive and just peace in the region through collaborative initiatives, and reaffirmed the important role the UAE can play to support the peace effort.  In February, the UAE hosted the foreign ministers of eight Arab states to discuss ways to advance the Arab League proposal for peace with Israel, and other matters of mutual interest.
"America, Europe and Arab nations must continue to work together towards a practical solution that will ensure the resumption of Palestinian-Israeli negotiations," said the Foreign Minister following the meeting. "Today, we had a productive discussion that confirmed our two countries' mutual commitment to regional peace and stability."
The Foreign Minister praised President Barack Obama's speech to the Turkish Parliament today and again acknowledged the appointment of Mitchell as Special Envoy for Middle East Peace, recognizing the crucial role the US plays in the peace effort.
His Excellency Yousef Al Otaiba, UAE Ambassador to the United States
also participated in the meeting with Special Envoy Mitchell.  
Ambassador Al Otaiba
said he was "deeply encouraged" by the continued cooperation between the UAE and the United States on finding a solution to the Palestinian-Israeli conflict.
The meeting was part of the Foreign Minister's five-day official visit to Washington, DC, during which he will also meet with US Secretary of State Hillary Clinton and other senior US officials.