New Jersey Governor Chris Christie Joins UAE Embassy and Atlantic City Long-Term Recovery Group to Dedicate New Community Soccer Field for Kids in Atlantic City
November 10, 2014
NEW FIELD IS PART OF UAE EMBASSY'S SANDY RELIEF EFFORTS IN NEW JERSEY
ATLANTIC CITY, NJ (November 10, 2014) – Earlier today, UAE Ambassador Yousef Al Otaiba,  New Jersey Governor Chris Christie, First Lady Mary Pat Christie, Atlantic City officials, community leaders and local children gathered to celebrate the dedication of a new soccer field at the Texas Avenue Playground in Atlantic City. 
 The gift is the result of an exciting partnership between the Atlantic City Long-Term Recovery Group and the UAE Embassy, who donated the funds to construct the field.  This field will benefit hundreds of kids at nearby schools on a daily basis, and is the latest in a series of significant Sandy Recovery efforts led by the UAE Embassy in the state of New Jersey.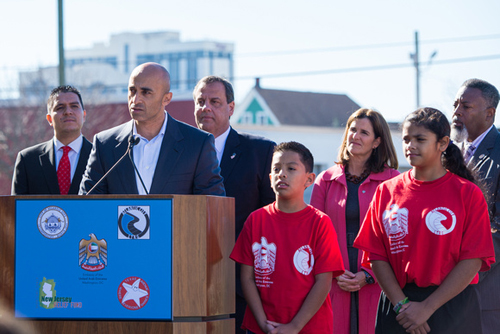 "This new soccer field is just one of many projects the UAE Embassy has been involved with in New Jersey to help our friends rebuild and revive their community in the aftermath of Hurricane Sandy," said Ambassador Yousef Al Otaiba, UAE Ambassador to the US. "I hope that our partnership – and this field – helps this community in just a small way on its journey back to full recovery from the storm ."
 "Last year, Ambassador Al Otaiba and the UAE became partners in New Jersey's recovery and rebuilding process, making a $4.5 million commitment to enhance technology capabilities at 30 schools in nine school districts impacted by Sandy," said Governor Christie. "Today, Mary Pat and I are pleased to see that commitment further enhanced through a partnership with the Atlantic City Long-Term Recovery Group that has resulted in the construction of the Texas Avenue community soccer field.  This is a wonderful opportunity that will give hundreds of kids in Atlantic City access to recreational sports at quality facilities."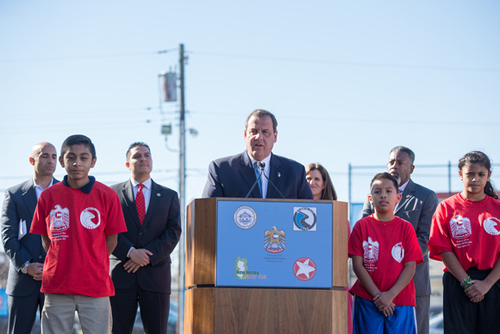 This project is in addition to the UAE Embassy's $4.5 million grant last year to the Hurricane Sandy New Jersey Relief Fund to enhance the technology capabilities for schools around the state hit hard by Sandy. The funds went to 30 schools across nine districts. As part of this grant, additional funds were set aside by the UAE Embassy to provide community soccer fields for storm-impacted areas of New Jersey.
 Pastor Collins Days, head of the Atlantic City Long-Term Recovery Group said, "We are thrilled to support the launch of the Texas Avenue Playground soccer field today. We appreciate our friends from the UAE Embassy partnering with us on this initiative which will have a real impact on this community.  It is an important part of the ACLTRG's broad array of ongoing recovery programs for this people of this area." 
 Atlantic City Mayor Don Guardian said, "Atlantic City is a very diverse community.  We appreciate the UAE Embassy taking such a special interest in our city.  With the help of UAE Ambassador Yousef Al Otaiba and his team, they have built a very much needed soccer field in the middle of one our most diverse communities.  As mayor of this great city, I guarantee that this field will be used every day.  This is just one more reason why it's great to live and work in Atlantic City."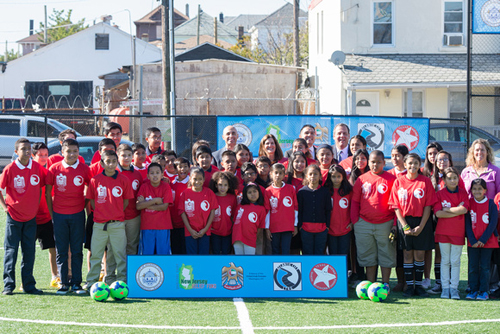 Ambassador Al Otaiba, Governor Chris Christie, First Lady Mary Pat Christie, Chris Filiciello of Mayor Guardian's office and representatives from the Atlantic City Long-Term Recovery Group, were joined at the dedication ceremony by students from Texas Avenue School, Atlantic City elected officials and community members and local families and children. 
 "This soccer field will benefit all of our students each and every day, and I want to thank the UAE Embassy and ACLTRG for this generous gift" said Rosetta Johnson, Principal of the Texas Avenue School. 
 Atlantic City is the seventh US city to receive the gift of a soccer field from the UAE Embassy. The Embassy has collaborated with local community partners has across the US to provide deserving children access to quality sports facilities and programs by building fields in: Washington, DC, New York City, Chicago, East Los Angeles, Miami, and Dallas, Texas. 
 # # #
 About Atlantic City Long-Term Recovery Group
Founded by a group of volunteers from Hope Force International, local clergy, elected officials and concerned Atlantic City Residents, the mission of the Atlantic City Long-Term Recovery Group (ACLTRG) is to respond to resident's needs, rebuild homes and restore hope by coordinating the efficient delivery of various recovery resources. Through a dedicated team of case managers, construction personnel, various donors, administrative staff and volunteer laborers we are able to respond to the call for help and assist residents on the road to recovery. ACLTRG does this work so that Atlantic City Residents may once again say, "Welcome Home". 
 About The United Arab Emirates
The UAE is a source of stability, tolerance, innovation, and growth in the Arabian Gulf and around the globe. The United States and the UAE are reliable allies, with historical and present-day shared security and economic interests. In fact, the UAE is the largest export market for US goods in the Middle East and more US naval vessels visit UAE ports than any other port outside the United States.  The United States and the UAE also enjoy growing social and cultural ties, and many US institutions in education, healthcare and the arts have formed collaborative partnerships with UAE entities.  
For more information: www.uae-embassy.org.