UAE Embassy Diplomats Conduct Regional Outreach Visit to Nashville, Tennessee
September 19, 2013
WASHINGTON, DC (1 July 2013) – On June 17th, officials from the United Arab Emirates (UAE) Embassy in Washington, DC, Dr. Saghira Al Ahbabi – Second Secretary, Political Department and Saud Al Nowais – UAE Commercial Counselor to the US, visited Nashville, Tennessee.
While in Nashville, they met with civic and commercial leaders to discuss the growing commercial and educational ties between Tennessee and the UAE, and to explore areas for future collaboration.  
The diplomats also discussed with local businesses ways to establish operations in the UAE, or export their products to the country.
Among US states, Tennessee is the 11th largest exporter to the UAE.  In 2012, the state exported over $561 million of goods to the UAE, increasing from $28 million in 1999 and growing by 82% from 2011 to 2012 alone. Major exports from Tennessee to the UAE include motor vehicles, aerospace products and parts, automotive parts and medical equipment.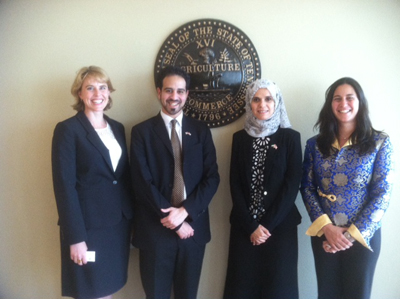 While in Nashville, Tennessee's state capital, the diplomats met with the State Economic and Community Development Commissioner, William "Bill" Hagerty, and the Director of the Metro Nashville Economic and Community Development Office, Matt Wilshire.  The diplomats also briefed local business leaders, including representatives from the Nashville Chamber of Commerce and Nashville Healthcare Council, on the UAE-US relationship and opportunities for expanded trade and commercial ties.
The Embassy diplomats also visited Vanderbilt University where they met with administrators and faculty to discuss the work being done in the UAE with the Abu Dhabi Education Council by Vanderbilt's Peabody College of Education and Human Development.
The diplomats visited Nashville as part of the UAE Embassy's ongoing public diplomacy program to educate Americans on the deep UAE-US bilateral relationship.  Ambassador Al Otaiba and Embassy diplomats plan to visit additional US cities this year. 
####