The UAE Women's National Hockey Team visited Washington, DC, New York and Boston in February 2019. After a successful tour of North America in 2018, the team returned to the US to give back to the communities they visited by supporting organizations that provide access to hockey for players of all ages and abilities. The players partnered with the American Special Hockey Association to host clinics for athletes with intellectual and developmental disabilities.
Previously, the team traveled to the US and Canada to celebrate the National Hockey League's "Hockey is for Everyone" month in February 2018. The team engaged in events that broke down stereotypes, built cultural understanding and forged lasting friendships.
The athletes participated in a ceremonial puck drop at a Washington Capitals game in DC, in addition to practicing with the Capitals and scrimmaging with the Washington Pride, a local club team. Off the ice, they met with members of Congress, US officials and local community leaders to discuss the ability of sports to break stereotypes and build bridges between people of different backgrounds. They also met with Ambassador Al Otaiba at the UAE Embassy in Washington, DC.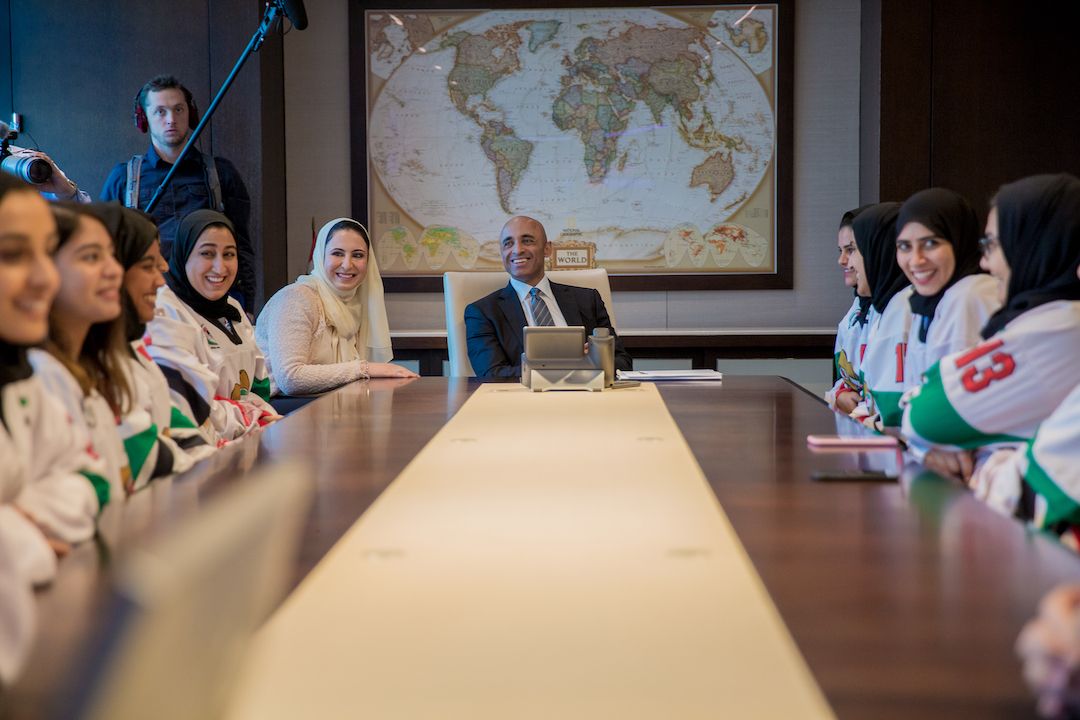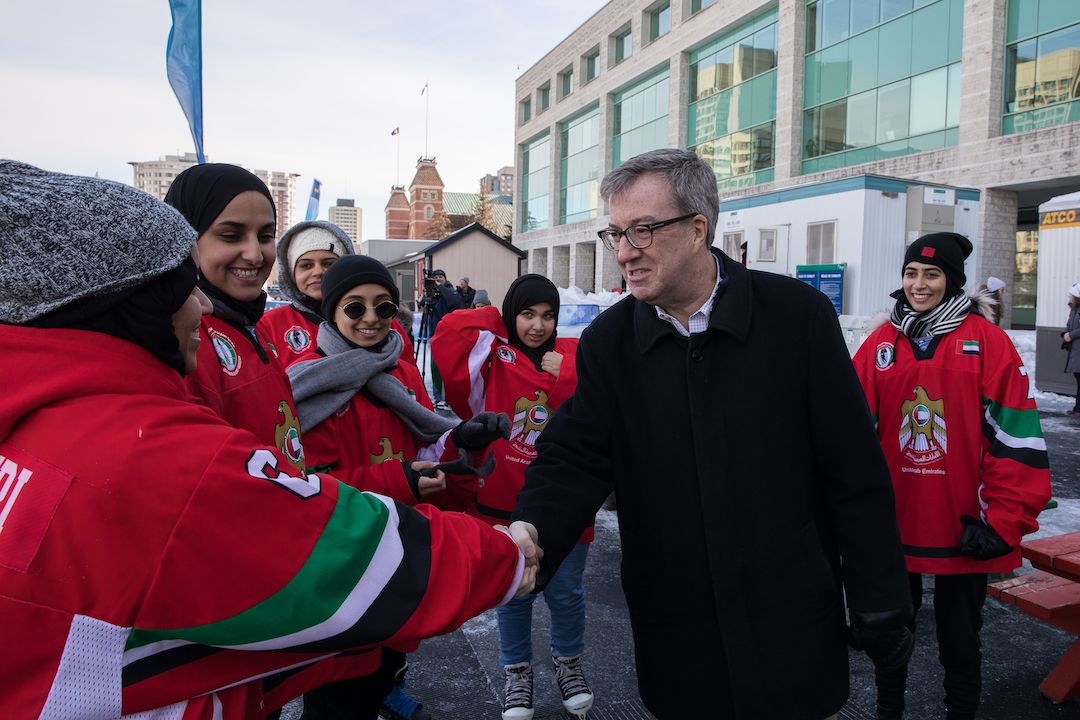 The team also stopped in Chicago and Ottawa. In Chicago, the athletes partnered with the Inner-City Education Program to host a hockey clinic for local youth. They also celebrated "Hockey is for Everyone" month alongside the US Paralympics Sled Team at a Chicago Blackhawks game. In Ottawa, they met with Mayor Jim Watson, practiced with a local women's club and attended a dinner at the UAE Embassy in Canada.
US Women's Ice Hockey Team Visits the UAE
The Pride U19 team embarked on trip to the UAE in April 2019 as guests of the UAE Embassy.  The team attended the IIHF Asia Challenge Cup of Hockey in Abu Dhabi and practiced with the UAE National Team and local hockey players.  On a day visit to Dubai, the teams played an inter-squad game at Dubai Mall, the largest Mall in the world.  
The players visited the Sheikh Zayed Grand Mosque, Louvre Abu Dhabi, the Burj Khalifa, and other historic sites in the UAE.  This was a historic visit by a hockey team from the United States to further sports diplomacy between the UAE and US.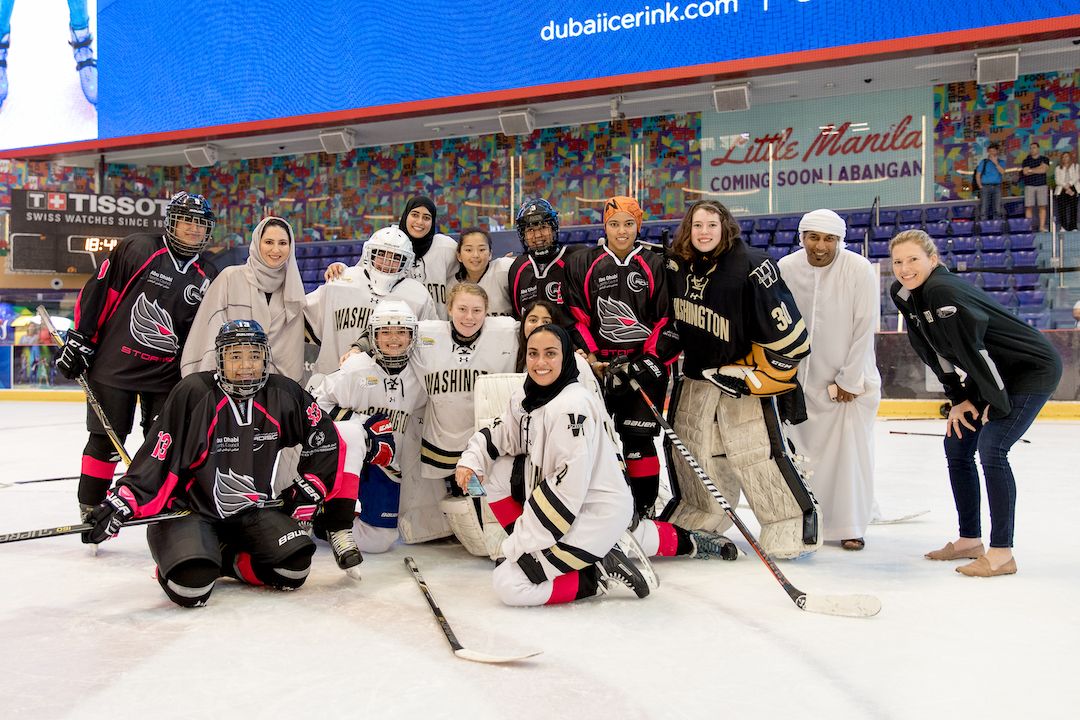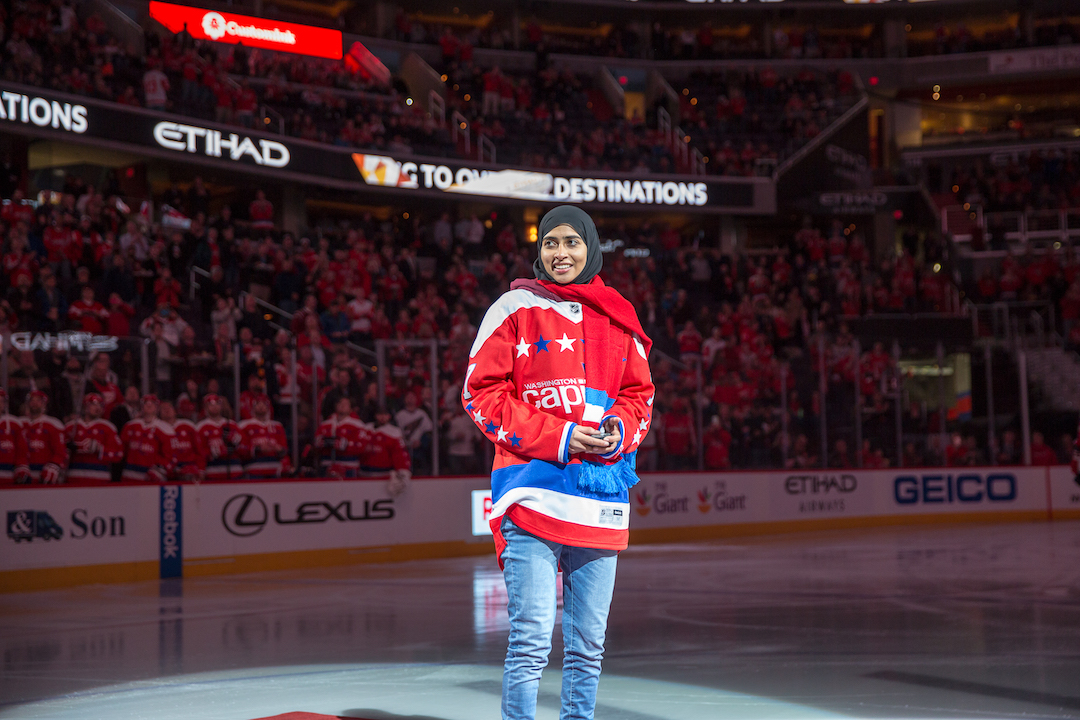 Fatima Al Ali, a member of the UAE Women's National Hockey Team, traveled to Washington, DC in February 2017. Al Ali met members of the Washington Capitals and participated in their practice.
While in Washington, Al Ali also attended a Washington Wizards game and met with Ambassador Al Otaiba to discuss the leading role women are playing in UAE sports and physical fitness.
The UAE Women's National Soccer Team visited the US in 2011 for a month-long training program with the Philadelphia Independence women's professional soccer team.
By training and scrimmaging with US players, hosting community events and meeting with community leaders, the UAE team honed their soccer skills while also educating Americans about the UAE.