A new UAE-US partnership will fight climate change, fund clean energy technology and deepen bilateral cooperation. In November 2022, the UAE and US launched the Partnership for Accelerating Clean Energy (PACE), which will catalyze $100 billion in financing, investment, and other support to deploy 100 new gigawatts (GW) of clean energy by 2035. The initiative represents a shared commitment by two major energy producers to a swift, responsible and ambitious energy transition.
In January 2023, UAE and US officials announced that $20 billion will be allocated to fund 15 GW of clean and renewable energy projects in the US before 2035. This first wave of investments under PACE will be financed through $7 billion in cash equity from the private sector that will catalyze $13 billion through US debt financing and other instruments.
In August 2023, ADNOC and Occidental signed a strategic collaboration agreement to evaluate potential investment opportunities in carbon dioxide capture and storage hubs in the UAE and US. With the help of PACE, both companies will work to develop carbon management platforms to accelerate net zero goals.
"The energy transition needs a realistic, practical and economically viable plan to deliver climate progress together with energy security and inclusive economic growth. The UAE-US Partnership for Accelerating Clean Energy will enable climate action while enhancing global energy security and affordability for the people of the UAE, the US and nations around the world." - HE Dr. Sultan Al Jaber, UAE Special Envoy for Climate Change.
"PACE is testament to the deep commitment our countries share to urgently address the climate crisis – as quickly as possible. Together, we will spur large-scale investment in new energy technologies, in our own countries, around the world and in emerging economies." - Amos Hochstein, Senior Advisor to the President for Energy and Investment at the White House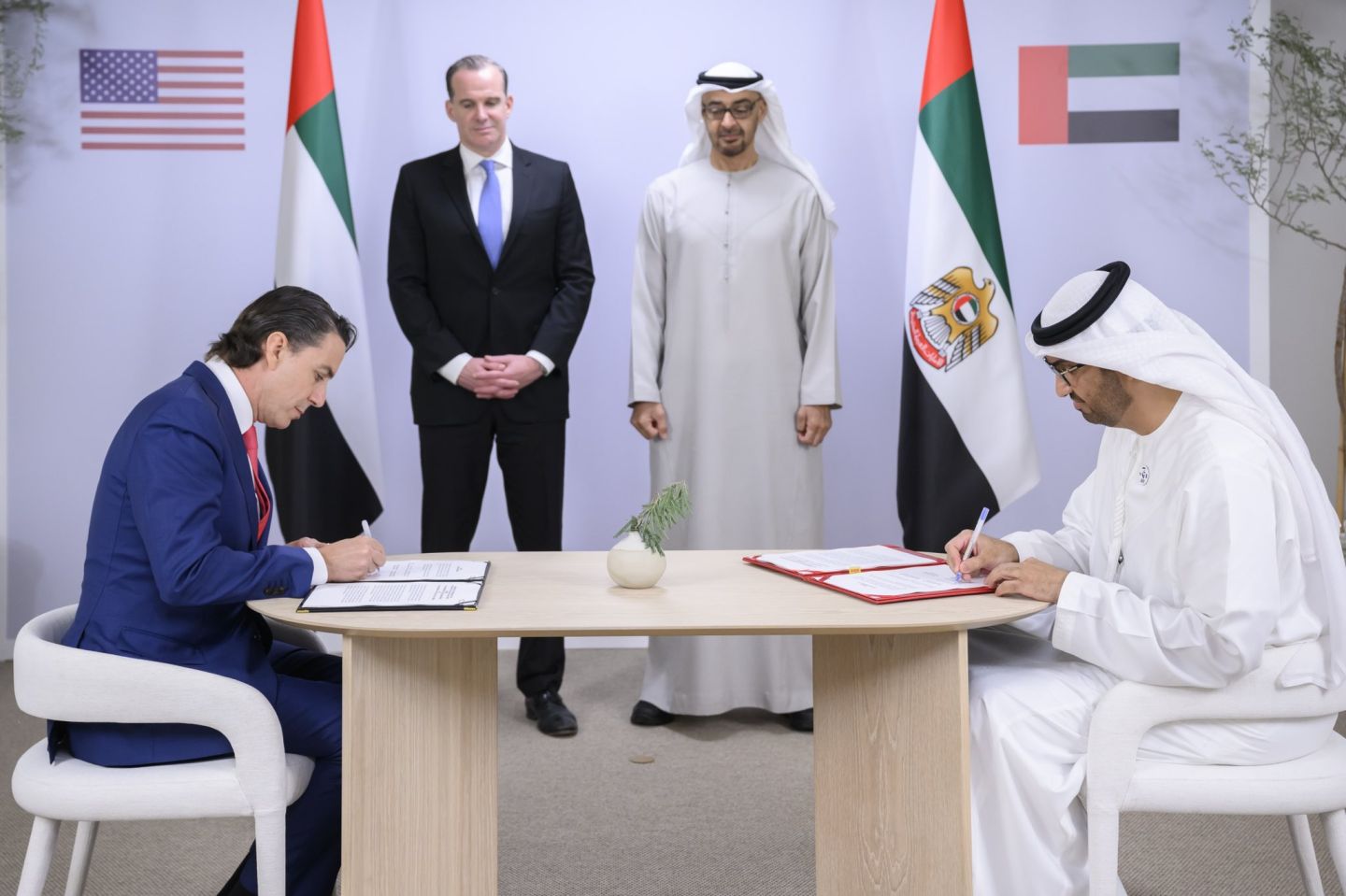 A Shared Vision for Climate Action and Energy Security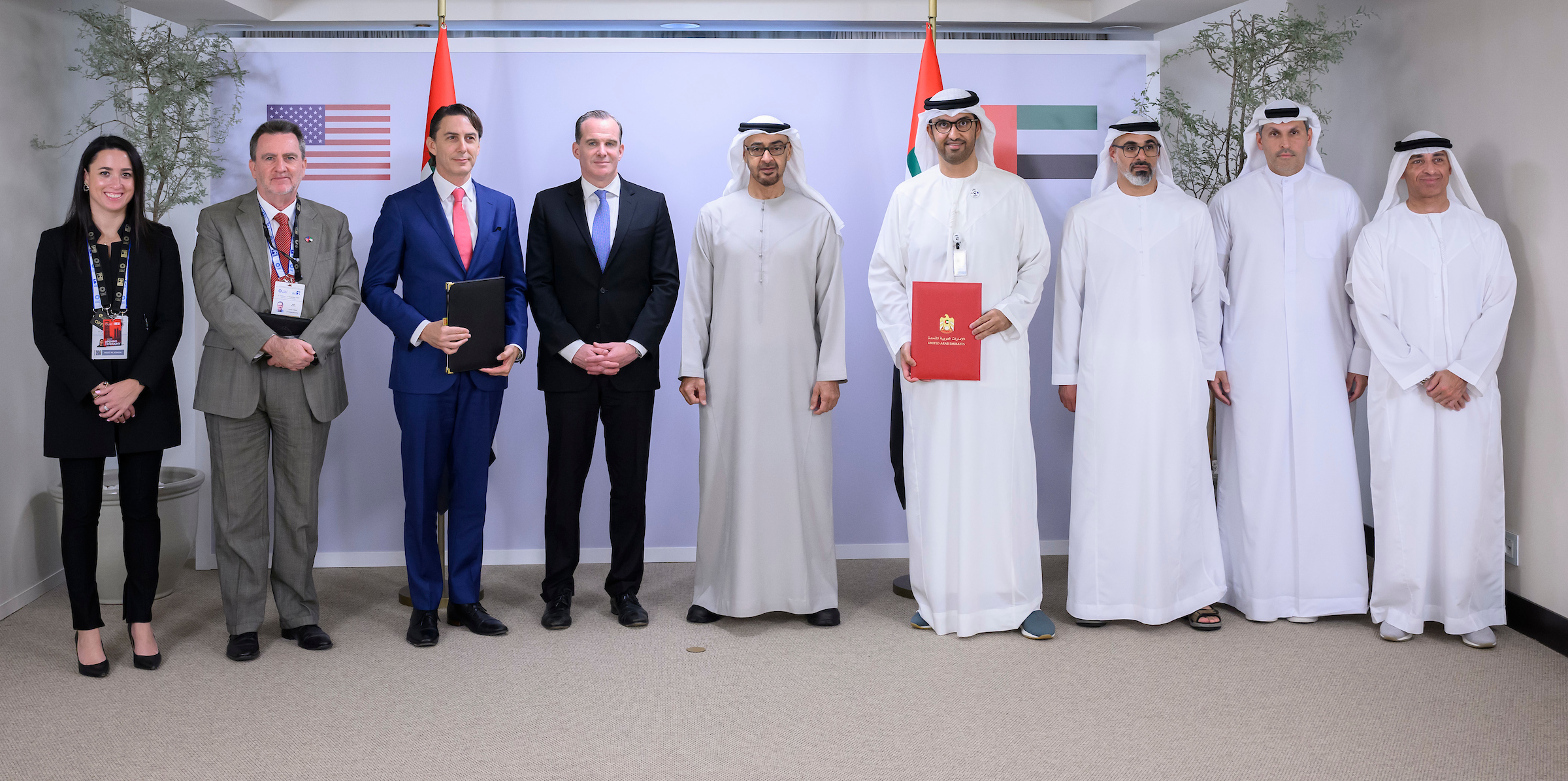 The UAE and US are taking climate action together, in line with their net zero 2050 goals. Both countries recognize that a rapid, sustainable and well-managed energy transition is critical to advancing climate change, as well as to enhancing global energy security and accessibility.
Building on five decades of energy cooperation, the UAE and US established PACE to promote projects and new technologies that will quicken the energy transition and create economic opportunities. It will catalyze $100 billion in commercial investment and assistance in: 1) Clean energy innovation, deployment and supply chains; 2) Carbon and methane management; 3) Nuclear energy; and 4) Industrial and transport decarbonization.
The UAE and US have formed an Expert Group to govern the partnership. Led by COP28 President-Designate HE Dr. Sultan Al Jaber and US Special Presidential Coordinator Amos Hochstein, the governing body will meet quarterly to propose new projects and measure progress against the initiative's goals of ensuring a global clean energy future and long-term energy security.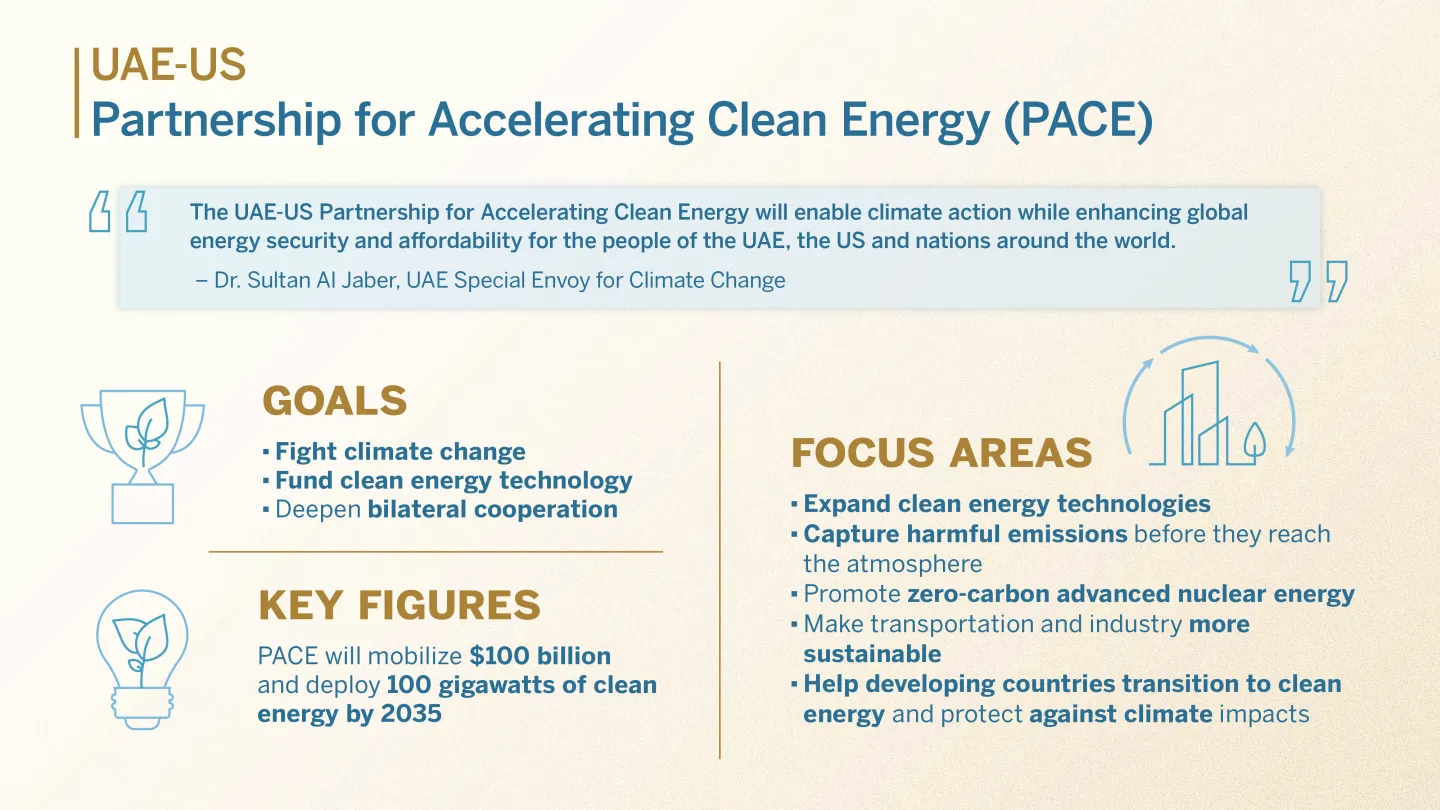 Notable Comments on UAE-US Climate Cooperation
"PACE further deepens our strategic relationship with the UAE and reflects the broader U.S. commitment to promoting economic prosperity, security, and stability in the region...The United States is grateful to UAE President Sheikh Mohamed bin Zayed Al Nahyan for his leadership in advancing both this initiative and agreeing to host COP28 in 2023."
- US Secretary of State Antony Blinken, 1 November 2022
"Climate action and clean energy are key pillars of US-UAE partnership... PACE will accelerate clean energy innovation and deployment and deepen our rich bilateral ties."
- US Special Presidential Envoy for Climate Change John Kerry, 1 November 2022
"This is just the latest demonstration of the deep strategic relationship our countries share, and of the broader U.S. commitment to promoting economic prosperity, security, and stability in the Middle East region."
- White House Press Secretary Karine Jean-Pierre, 1 November 2022
"The US and UAE have always been allies and have a strong relationship in security, in defense, in economics…Now we are joining forces to lead the world in adaptation and implementation of the climate agenda; in renewable energy, electric vehicles, cleaner nuclear power that is maybe more deployable, advancing new technologies, accelerating [all] these things. And we're extremely excited."
- Special Presidential Coordinator Amos Hochstein, 1 November 2022
"The US and the UAE are cooperating on a number of initiatives and we've had a real partnership on this whole issue of the climate crisis…The UAE has really been a leader in the climate sphere, which is one of the reasons that they were chosen to host COP28…COP28 is going to be a very significant COP and the UAE's leadership is going to be critical."
- Special Envoy for Climate Change, John Kerry, 10 October 2022
"The UAE has not only set a leadership example with its own Net Zero 2050 goal but also successfully bid to cost COP28 in Dubai to build upon Egypt's leadership [at COP27]…The UAE has also joined with us to launch last year the Agriculture Innovation Mission for Climate (AIM for Climate). It's now the world's foremost international effort for mobilizing and coordinating investment in climate-smart agriculture…We are also now working together on several innovation sprints – public-private partnerships to address agricultural challenges."
- Senior Advisor to the US Special Envoy for Climate Change, David Livingston, 28 September 2022
"There is a level of leadership engagement, creativity and readiness to embrace the urgency of the challenge that makes the UAE a leader, and that's what we need right now to use the next 10 years to the fullest…They are already diversifying, and other countries need help to be able to diversify. That's when the developed world needs to come to the table and be helpful."
- US Special Envoy for Climate Change John Kerry, 1 July 2022
"It's quite remarkable, frankly, to find a country that is an oil and gas producing country that has been leading many other nations in the search for new technology in the effort to be a leader in transitioning to the new [green] economy."
- US Special Envoy for Climate Change John Kerry, 21 April 2021
"As we jointly make progress towards our ambitious climate agendas, we're committed to working together to innovate new clean energy solutions. The US Department of Energy continues to support the clean, sustainable, and peaceful development of UAE's civil nuclear technology to help tackle the climate emergency."
- US Secretary of Energy Jennifer Granholm, 16 April 2021
"The United States thanks the UAE for accelerating the research and development necessary to lower emissions [from the agricultural sector]. The US is proud to join you as an inaugural member of the AIM for Climate Initiative."
- US Secretary of Energy Jennifer Granholm
"[AIM for Climate] is the beginning of a new chapter, a new relationship, a stronger relationship and one that I think will encourage farmers to do what they are traditionally bound to do…which is to be the stewards of land and water."
- US Secretary of Agriculture Thomas J. Vilsack
"Investments in pioneering restoration efforts like 'Mission: Iconic Reefs' can be beneficial not just in the Florida Keys, but also in reefs around the world, where corals suffer stress from human use, climate change, and other factors. By working together, we can create a lasting legacy in the Florida Keys and help support coral restoration efforts worldwide, in turn, providing economic security for communities that depend on healthy marine environments."
- US Assistant Secretary of Commerce for Oceans and Atmosphere Dr. Tim Gallaudet, 27 February 2020
"…the UAE has been on the cutting edge of a whole bunch of technology investments. And for a gas and oil-producing country, I think it's exceptional to have them willing to bring all of the institutions engaged in trying to work for a transformation to new energy right to their home, right to the heart of the production area, and talk about the future. I think that's bold leadership.  I think it's very important."
- Special Envoy for Climate Change, John Kerry, 26 October 2022
Think Tanks, Academia and Private Sector
"The nuclear reactors at the Barakah power plant that are operational and pumping electricity into the grid are examples of how the country is managing the transition thoughtfully."
- Bill Gates, 6 October 2022
"The UAE's climate action history and progress are stunning. Since the country was founded 50 years ago, the UAE has built a legacy of sustainability and has been a vocal and active proponent of responsible and eco-conscious growth."
- Harvard Business Publishing, 17 February 2022
"As a longtime global energy leader, the UAE will play a key part in the energy transition and the development of long-term clean energy solutions. The became the first Middle Eastern state to make a net zero emissions pledge by 2050 and is expected to invest $160 billion in clean energy solutions as the government raises climate ambitions."
- Former Director of the Atlantic Council Global Energy Center Randy Bell, 26 October 2021
"The UAE, with a rapidly expanding global advanced energy portfolio with strong support for renewables, serves as a critical touch point in the Middle East for US clean energy diplomacy and collaboration. Leading in this space, the UAE has operationalized the world's larger solar farm in Abu Dhabi and built the region's first civil nuclear energy plants. At this critical juncture in history, the opportunity is ripe to strengthen US-UAE bilateral relations through green energy, innovation, climate action and global renewables deployments."
- Former Director of the Atlantic Council Global Energy Center Randy Bell, 18 December 2022